Keoladeo National Park
KEOLADEO NATIONAL PARK
Introduction to PA:
Keoladeo National Park (KNP) is located in Bharatpur district of the state of Rajasthan. Keoladeo National Park derives its name from the local deity 'Keoladeo' due to the presence of the Lord Shiva temple at the centre of the Park. It was earlier known as 'Ghana', which means dense forest. The park encompasses an area of 29 Sq. Km which is located in at the confluence of Gambhir and Banganga rivers which are tributaries of the river Yamuna. The park has a remarkable diversity of habitats and is an ideal haven for aquatic semi-aquatic and terrestrial wildlife.
Map of KNP: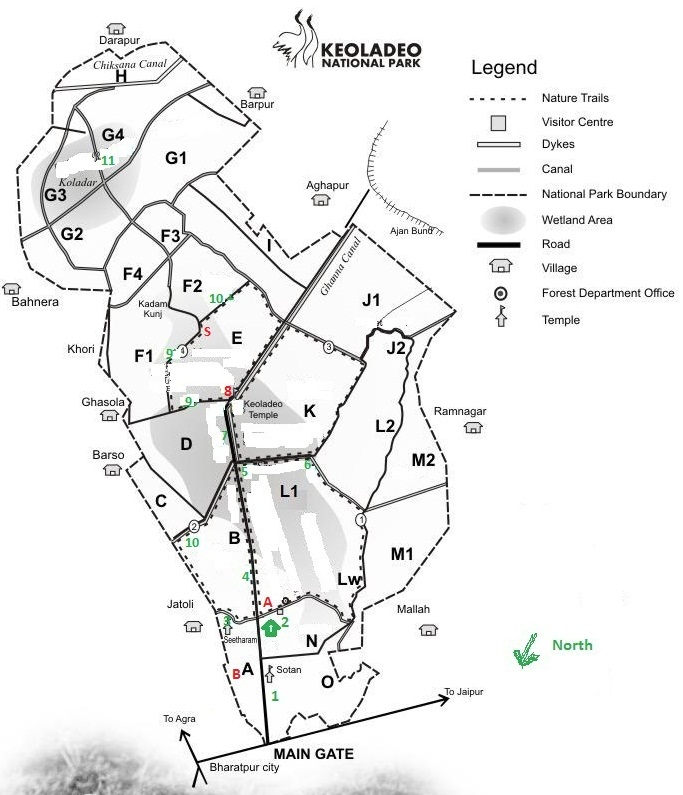 How to reach KNP:
Keoladeo National Park is located 1Km South-East of Bharatpur town near Jaipur- Agra National highway 11. It is located 55 West of Agra, 187 Km South of New Delhi and 180 Km from Jaipur. It is well connected by road and rail. The nearest railway station is Bharatpur and the nearest airport is Agra.
Time to visit the Park:
July to September- Nesting and breeding of waterfowl
October to February- Arrival of migratory birds
March to June- Nesting and Breeding of the resident birds.
Nearby tourist places:
Some of the nearby tourist places include Bharatpur Museum, Lohagarh fort, Deeg palace, Bandh Baretha Lake and Fatehpur Sikri.
Booking of Tickets:
The park remains open from sunrise to sunset and tickets can be only booked only at the ticket counter of the park after paying prescribed fees.
Tourists can move inside the park on foot, in cycle rickshaws or cycles registered with the park, battery operated vehicles run by the park administration and by boats.
The interpretation centre is located near the barrier and regular wildlife film shows are run here for the tourists.
Nature Guides and Rickshaw Pullers registered with the park have deep knowledge of the park and tourists can avail their services upon payment of the fixed fee.
Various books on Indian Wildlife and souvenirs can be bought from a book shop at the barrier.
Tariff Information
Entry Fee (Per Visit)
Students - Rs. 20
Indian - Rs. 75
Foreigner - Rs.500
Car/Jeep - Rs.50
Bus - Rs. 100
Guides (Per hour) - Rs. 250 per hour
Group less than 5 members - Rs. 250 (compulsory with groups of 10 and above)
Group of more than 5 members - Rs. 400
Rickshaw - Rs. 150 per hour
Tonga - Rs. 300 per hour
Video camera (Handy cam) - Rs. 600
Video camera professional - Rs. 60000 for Indian agency
Rs. 90000 for foreign agency
Boating - Rs. 75 per hour
Electra van/visitor/hour - Rs. 300/hour
Dos and Don'ts:
Ø Animals have a right of way - If you come across an animal crossing the road, resting or feeding by the road side, slow down and be silent.
Ø Watch the wild life at leisure and respect the right of others to watch as well.
Ø Most animals have a keen sense of hearing and alien sounds startle them. Do not scream or talk loudly.
Ø Small groups are ideal for park visit.
Ø Enjoy the song of the birds. Do not use your music players inside the park.
Ø Animals gather their own food. Do not feed them with your food.
Ø DO NOT smoke inside the park. You might kindle a wildfire in the park.
Ø While in a forest it is better to blend with the surroundings by wearing khaki or green colored dress.
Ø During summers, carry drinking water with you.
Ø Dust bins are provided all along the roads. Do not throw litter around the park.
Ø DO NOT get into the water and disturb the birds.
Ø Be careful during a boat ride. Do not upset the balance of the boat. Strictly obey the instructions of the boat driver.
Ø Carry a note book and park map. Travel light and do not carry any valuables except cameras and binoculars.
Ø Keep a safe distance from the animals and birds. Respect their privacy and you will be rewarded with hours of undisturbed viewing.
Ø Early mornings and late afternoons are best suited to visit the park.
Ø Nature Guides, Rickshaws and Cycles are available at the entrance of the park at approved rates.
Contact details:
Office of the Deputy Conservator of Forest (Wildlife), Keoladeo National Park, Bharatpur
Phone- 05644-222777
Email- dcfwl.bhp.forest@rajasthan.gov.in
Accommodations:
Forest Guest House (FRH)- Shanti Kuteer Guest House located inside the park