Tourism overview
The Sariska Tiger Reserve lies in the National Capital Territory (NCT) region and closeness to the State capital of Rajasthan (Jaipur), has attracting large number of tourists on day-to-day basis from all over the country. Apart from the tiger sighting, people come to Sariska for the religious tourism purposes, as the famous Pandupole Temple, Bharthari Temple, Narayani Matha temple, Neelkhant Mahadev temple is located inside the Reserve. The nearby Tourism places around Sariska are Bala Qila at Alwar City, Siliserh lake, Alwar City Palace, Government Museum, Moosi Maharani Chhatri, Fateh Jung Gumbad, Purjan Vihar, Bhangarh and Garbhaji Waterfalls.
Safari Booking System
There are two types of booking system in Sariska Tiger Reserve one is advance online booking and second is current booking at window. For advance online booking facility is being made available from official website-https://fmdss.forest.rajasthan.gov.in. Nearly 75% of total seats are reserved for online advance booking, which can be done 365 days prior to the visit day. Remaining 25% seats are being allotted in Current booking at tourism Centre, current booking starts one and half hours prior to the entrance time for each trip. For Sariska Tiger Reserve, there are two entry gates one at the Sadar Gate (Main gate of Sariska Reserve) and the other one at the Tehla.
The step-by-step approach for Booking online Tickets for Safari are as follows:
Fee Details
Sariska Tiger Reserve , Alwar Advance Booking System
Sl.No.

Gypsy Amount (INR)

Canter Amount (INR)

Indian

Foreigner

Indian

Foreigner

1.

1062.00

1722.00

706.00

1366.00
Rate is for 1 Person.
Approach & Access
Nearest Railway Station

Alwar- 47 Km

Nearest Airport

Sanganer (Jaipur) - 110 Km

Delhi - 180 Km

Distance by Rail (up to Alwar)

Delhi- 165 Km

Agra- 165 Km

Jaipur- 150 Km

Distance by Road from Sariska

Jaipur- 110Km (via. Shapura)

Agra - 200 Km

Delhi- 200 Km (vía. Bhiwadi)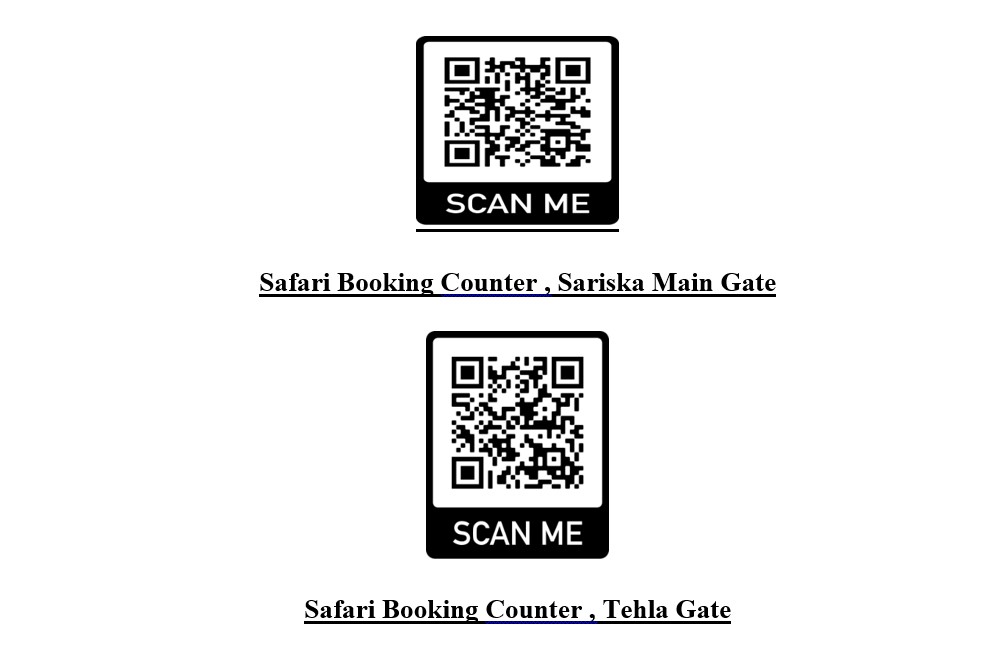 Timings for Safari:
Period

Morning Shift

Evening Shift

Entry

Exit

Entry

Exit

April 1st to May 15th

6.00 A.M.

9.30 A.M.

3.00 P.M.

6.30 P.M

May 16th to June 30th

6.00 A.M.

9.30 A.M.

3.30 P.M.

7.00 P.M

October 1st to October 31st

6.30 A.M.

10.00 A.M.

2.30 P.M.

6.00 P.M

November 1st to January 31st

7.00 A.M.

10.30 A.M.

2.00 P.M.

5.30 P.M

February 1st to March 31st

6.30 A.M.

10.00 A.M.

2.30 P.M.

6.00 P.M
Note : The Sariska Park will be closed to Safari from 1st July to 30th September.
Zones for Safari:
Sl.

No.

Tourism Zone

Type of Vehicle

Zone Number

1

Sariska - Ghanka tiraya – Tarunda – Brahmanath – Kalighati – Pandupol- Sariska

Canter/Gypsy

01

2

Sariska gate – Bharthari tibara – karnakabas – Jalebi chowk – Algual – Naya pani – Geru ka tirya – Kalighati –

Pandupole –Sariska

Canter/Gypsy

02

3

Tehla gate – Chamari ka bera –

kalighati – Pandupole - Tehla

Canter/Gypsy

03