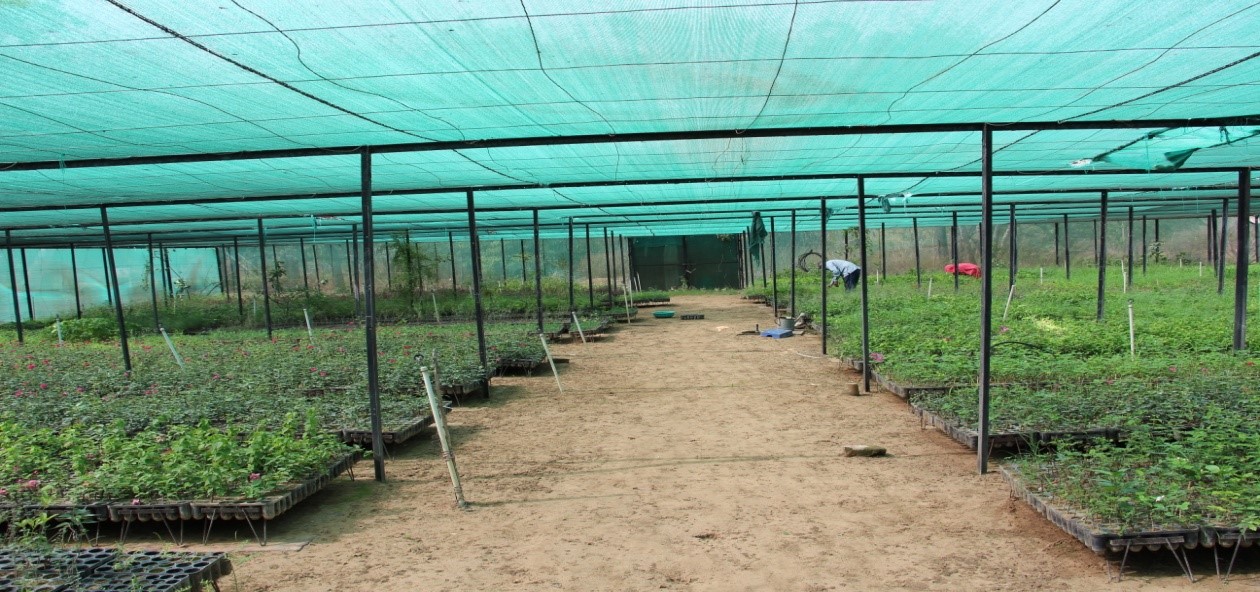 High Tech Nursery is a combination of poly green house and agrinet house. Vegetative reproduction is used in such nurseries to ensure genetic similarities with the source. High Tech Nurseries over come the limitations like poor control over climatic factors, low germination percentage, longer duration, and high cost involved in conventional methods of plant raising.
Poly Green House is erected in direction parallel to East- West over angle irons, pipes, or wooden post. It is erected by fixing mild steel pipe at an Interval of 4.0 mtr. distance having height of 2.50 mtr. with an area of 32.0 x 8.0 mtr2.as per National Botanical Research Institute Lucknow.The structure should be covered by Ultra Violet radiation proof polythene sheet made by I.P.C.L. The structure should have a cemented floor and cemented working table. Inside Poly Green House mist formation device and humidity control system are installed. Tempreature is controlled by installing two exhaust fans in front portion and a cooling pad at its back portion.
Inert medium like vermiculite is used in root trainer. Juvenille cuttings are placed in vermiculite for rooting. A specific method is followed for selecting planting material. Cuttings are disinfected by placing in KmnO4 (Potassium permagnet) solution. Disinfected cuttings are washed by clean water, lower end of cuttings are again cut to eliminate airy portion if any and immediately dipped in rooting hormone solution (4000 PPM of Indol Butyric Acid) before planting in root trainers filled with vermiculite. Temperature and humidity are generally maintained between 25-300c and 70 - 80% respectively in poly green house. It takes about 3 to 4 weeks to develop roots.
AGRINET HOUSE :-
Agrinet House is a structure fabricated by angle Iron post or iron pipe with dimensions 32 M. x 8 M. x 2.5 M. and covered by green agrinet. Tender seedling in poly green house are shifted to agrinet house for further growth in an Ideal nutrient soil mixture in root trainer for 30 to 45 days. Irrigation is done by micro sprinkler fitted 3 M. apart with 0.75 M. height. Tender seedling are kept 1 to 1.5 months in agrinet house for growth. The agrinet plants are hardened for field conditions by keeping in open atmosphere for about 20 days with restricted watering .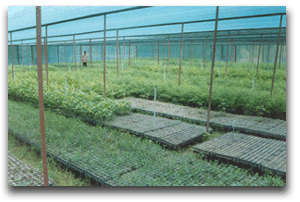 ROOT TRAINER :-
Root Trainers are conical cells having 5 to 6 ridges inside and with a small drainage hole on the bottom. Root trainers are available singly or in a block with various volumes like 100, 150, 250, 300 cc each. These cones in fact train the root naturally in a way that roots develop parallel to ridges inside the cone and are self pruned without coiling when come out of drainage hole on contact of air and sun light and for this reason the blocks of root trainer are kept on stands which are about 15 cm. above the ground level. Root trainers blocks can be transported easily , are long lasting, require less growth medium and water. The application of fertilizer and insecticide is also easy in root trainer. More plants can be raised in smaller areas. Pest control management is also easy in root trainer method.
POTTING MIXTURE :-
Generally two type of potting mixtures are used in High Tech Nursery.
A. VERMICULITE (INERT MEDIUM) :-
Root formations in juvenile branch cuttings do not require any supplementation of nutrient as it happens with the help of stored food material in cuttings. There fore use of neutral medium in Poly Green House is appropriate. Due to its inertness development of algae and fungi does not occur in humid environment.

B. IDEAL NUTRIENT MEDIUM :-
After rooting saplings need nutrient for their growth. Ideal soil nutrient mixture is prepared by mixing soil, rice husk, vermi compost in a ratio of 1:2:2 mixtures by so formed 1.0 cmt. mixture we can fill 6666 root trainer cells of capacity 150 cc.
| | | |
| --- | --- | --- |
| 1. | Deoiled Neem Cake | 50.00 Kg. |
| 2. | Single super phosphate | 6.00 Kg. |
| 3. | Murate of potash | 2.00 Kg. |
| 4. | Amonium sulphate | 1.25 Kg. |
| 5. | Zinc sulphate | 0.05 Kg. |
| 6. | Ferrous sulphate | 0.05 Kg. |
| 7. | Copper oxichloride | 0.025 Kg. |
| 8. | Borax powder | 0.025 Kg. |
| 9. | Mangnesium sulphate | 0.025 Kg. |
| 10. | Copper sulphate | 0.005 Kg. |
| 11. | Mangnese sulphate | 0.025 Kg. |
| 12. | Diethane M-45 ( Indofil ) | 0.025 Kg. |
ROOT TRAINER NURSERIES OF SILVICULTURE WING :-
GRASS FARM RESEARCH CENTRE , JAIPUR
WORLD FORESTRY ARBORETUM RESEARCH CENTRE , JAIPUR
GOVINDPURA RESEARCH CENTRE, JAIPUR
BANKI RESESRCH CENTRE, UDAIPUR


Note:- This page is owned by Silva Wing.